Stainless Steel World Conference and Expo 2021
Published 01 October 2021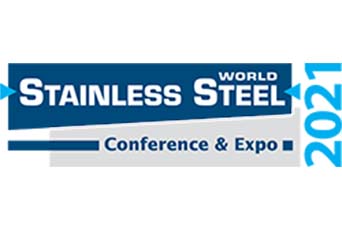 30th November – 2nd December 2021
Maastricht, The Netherlands
The Stainless Steel World Conference has established itself as the premier international forum for the exchange of knowledge and experience in the manufacture and application of stainless steels. The event contributes to the development of new corrosion-resistant alloys as well as to a better understanding of the most recent trends in the fields of welding, fabrication, surface treatment and materials specification.
2021 will be the 12th Stainless Steel World Conference in Europe and the key focus for the conference this year will be discussion, interaction, and knowledge transfer.
Interactive workshops will focus on new alloy developments – challenges and opportunities; welding; additive manufacturing; and modern energies: new possibilities for stainless steels and the contribution of stainless steels to sustainability.
More formal presentations will cover new developments in the manufacture of stainless steels, applications of stainless steel in green energy technologies (solar, wind, hydrogen, etc) as well as varying aspects of corrosion, cladding, automotive, manufacturing, applications, and duplex/super duplex.
Plenaries will address the circular economy and sustainability of the global stainless steel market as well as the use of stainless steels and other corrosion resistant alloys in a variety of industries.
Furthermore a panel of 'stainless experts' will also be at hand to solve your technical issues in both the conference and on the expo floor… where a whole spectrum of social events will be interlaced with some surprising twists.
View all news articles