Structural Stainless Steel AISC Webinars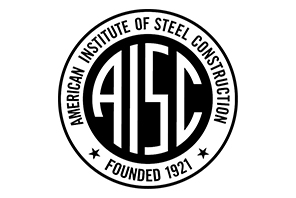 Join us for a 3 part webinar series on the design of durable and resilient stainless steel structures, starting with how to choose the right stainless steel alloy for a specific project through to designing members and connections, with practical advice on fabrication and installation.
The series will introduce and explain the provisions in the brand new AISC 370 Specification for Structural Stainless Steel Buildings and the supporting AISC 313 Code of Standard Practice for Structural Stainless Steel Buildings. Additional useful information in the new Second Ed. of AISC Design Guide 27 Structural Stainless Steel will also be covered.
May 5: Session 1 - Structural Stainless Steel Applications and Specification
Speakers: Catherine Houska and Nancy Baddoo
This presentation will introduce the new specification AISC 370, explaining why it is needed and how the specification and properties of stainless steel differ from those of carbon steel. An overview of structural alloys, applications and available product forms will be given, followed by guidance on how to assess the corrosiveness of the service environment, select an appropriate stainless steel family and alloy, and specify in accordance with ASTM and AISC 370 requirements.
May 12: Session 2 - Structural Stainless Steel Design

Speakers: Nancy Baddoo and Francisco Meza
This session will lead the designer step-by -step through the process of designing stainless steel tension members, beams and columns in accordance with AISC 370, highlighting the differences compared to the rules for carbon steel in AISC 360. Structural performance at elevated temperatures will also be discussed.
May 19: Session 3 - Structural Stainless Steel Connections and Fabrication
Speakers: Jason Provines and Benjamin Baer
The principles of designing stainless steel bolted and welded connections will be covered in this session, compared against the equivalent rules for carbon steel. Best practice fabrication procedures will also be presented. An overview of the key differences between the new Code of Practice for stainless steel, AISC 313, compared to AISC 303 will be given.
For registration and more information, click here.
View all news articles