Sustainability
Taking into account its entire lifecycle, stainless steel has one of the lightest impacts on the Earth of all known engineering materials. And at the end of its long life, all stainless steel can be recycled to create new stainless that is as strong and long-lasting as the original.
The global life cycle of stainless steels
Stainless steel for a sustainable future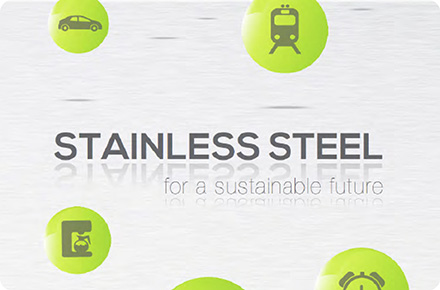 Due to its resistance to corrosion and staining, as well as needing little maintenance, most stainless steel products have long useful lives. Stainless steel products contribute towards renewable energy generation, energy efficiency, reduction in environmental impact, and safe food and beverage production. These are many types of stainless steels to suit a wide range of applications. Chosen and used correctly, they can make a major contribution to sustainability.
Download this brochure
Recycling ferritic stainless steel
The purpose of this brochure is to help develop and grow the systematic separation of ferritic stainless steel scrap in the metals recycling chain, both in the factory and at the end-of-life products.
Download this brochure